Providing in-house fitness solutions for your staff.'
A HEALTHY WORKFORCE IS A HAPPY AND PRODUCTIVE WORKFORCE'
The health risks of inactivity have been well documented in recent years and our increasing use of technology means we rarely even have to leave our desks during the course of a day. With the demands placed on our employees on a daily basis it's important they set aside time to get active.
Business owners and managers understand that the most valuable assets in their company are its staff.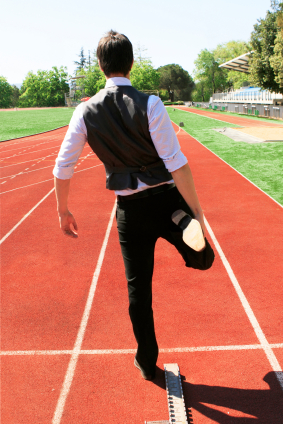 Corporate Fitness with Hillcliff involves every aspect of a health and fitness programme. It's not just about the time your staff spend with us, it's also about supporting them in the other activities they pursue and the lifestyle they lead. Our working relationship with our clients is based on a partnership. We pride ourselves in the results our clients see and the goals they reach when we work together.

What the client can expect
We gather a wealth of information to enable us to devise a programme designed specifically for the individual.
This thorough process includes:

Medical screening Exercise history Fitness analysis Body composition analysis
Postural assessment Nutrition analysis Lifestyle
This provides us with the details we need to design a programme that will enable them to set and reach their short and long term health and fitness goals. We devise strategies to incorporate fitness into their lifestyle. We understand the demands people face working in a corporate environment and by looking at the bigger picture we can ensure that the changes they make really do make a difference to their lives.

Tailored packages for your business
We deliver personal training on a 1-2-1 basis. Alternatively if a client wants to train with a colleague we can accommodate up to 4 people in one session. Group fitness classes are a fantastic way to get in shape and provide a great relief from the stress of the workplace. They also help to provide a sense of camaraderie amongst employees. We'll devise a package best suited to your needs of your business and your staff.
Part of the wellbeing programme
We want to place Hillcliff Personal Training as an integral part of a business's overall wellbeing programme. Alongside the training we can provide content and knowledge on health, fitness and nutrition to include in your communications, talks and seminars. We will tailor our service to meet the requirements of each particular business.
All our trainers are qualified to REPs Level 3 and fully insured with many years of experience working with clients who have varied, unique requirement
Benefits to your company - the evidence
Encouraging employees to embrace fitness as a lifestyle choice will pay off in numerous ways.
* Better immunity – A person who is physically fit is generally more resistant to illness. 173 million working days were lost in 2007 due to sickness absence [Source CBI] and the 2008 Black Review of the health of the working age population reported that the cost to the economy of working age ill-health in the UK is estimated at around £100bn each year. Encouraging health and wellbeing in the workplace will reduce absenteeism and lower your company's health care expenditure.
* Increased energy and productivity – Of the many factors that lead to time lost in the working day; travelling to meetings, IT issues etc. organizations often neglect to consider the time when the employee is not fully engaged. Regular exercise leads to increased and sustained energy throughout the day.
* Increased self-confidence – Those who have proven to themselves that they can accomplish what it takes to obtain a level of physical fitness often gain a self-confidence that empowers them to challenge themselves, and strive for higher levels of achievement in the workplace.
* Feel good factor – Regular exercise is proven to reduce stress and anxiety levels and alleviate the physical and emotional tensions that working in a commercial environment can bring.
* Experience in setting and achieving goals – Following a training regime often demands that an individual will set and reach fitness related goals with their trainer, related to their fitness. Seeing them through to completion is a skill that is naturally brought into the workplace.
* Increased employee morale - Employee turnover is significantly lower among employees that take advantage of a fitness programme offered to them at work and those who report that they have achieved work-life balance are more satisfied and more willing to 'go the extra mile' for their employers. The Canadian Life Assurance Company found that staff turnover among fitness programme participants was 32.4% lower over a seven-year period compared with non-participants. Employees appreciate an employer who demonstrates concern for their health.

The welfare of employees has a direct impact on the success of the company. By providing workers with an in-house fitness service you are improving health, wellbeing and job satisfaction as well as raising retention rates. We can provide your company with what is in essence a strategic advantage, when you invest in the opportunity that will bring you lowered expenses in the form of better performing workers, lower absenteeism and reduced health care costs.

At Hillcliff Personal Training we have experience in implementing in-house fitness at a number of agencies and corporations including ITV, Virgin Media and Shell International. Contact us for more details or call 0844 409 7109 to see how we can help your business.
"Hillcliff Personal Training began providing their on-site 1-2-1 Personal Training for our staff back in 2010. It really was an easy decision for us. With staff wellbeing high on our agenda the benefits to our business from Hillcliff's corporate fitness proposition were clear to see.
All we needed to do was to make a room available one day per week and provide a small space for them to store their equipment. They did the rest. We had some great feedback from our employees who were really pleased that this service was on hand for them to use. The trainers were totally professional and we'd recommend Hillcliff Personal Training to any business who are looking for an added health benefit to their employees." Naomi da Costa, HR Director – Proximity London
"As resident Physiotherapists at Shell International we have been working closely with Hillcliff Personal Training since 2010. Having them on site has been a real bonus not only for the staff in their fitness training but also for our business. We have established a key collaboration which provides a continuous progression of treatment, rehabilitation, corrective and functional exercise programmes for our patients. They are extremely knowledgeable and thoroughly professional. I would have no hesitation in recommending their corporate fitness solutions to any business that values their staff welfare." Amanda Belfanti – Belfield Physiotherapy[/text_output][/vc_column][/vc_row]